Dental Crowns & Bridges Barrie - Direct Billing Dentist Barrie
Crowns
If you have teeth that have suffered from years of neglect or injury resulting in cracks or chips, then a crown or dental cap may be an ideal solution for you. It is often difficult to engage in menial tasks such as chewing, speaking, or even smiling with damaged or broken teeth. Fortunately, your dentist available evenings in Barrie, Dr. Rebeca Riojas-Ozturk and the team at Barrie Heights Family Dentistry can assist you in restoring your teeth and smile. 
Dental crowns are characterized as tooth shaped caps that are designed to cover the entirety of the affected tooth that lies just above the gumline. Crowns are able to enhance a tooth's strength, stability, durability, and visual appearance. Historically dental crowns were made using metal based materials and stainless steel. However, shifts in consumer tastes have prompted dentists to use more natural looking tooth coloured options. As a result dental crowns made out of porcelain, ceramics, and resins are most preferred by patients.
Installing a dental crown often requires two dental appointments. During your first visit, your dentist available evenings will examine whether or not your teeth can support the crown. Once approved, your direct billing dentist in Barrie will prepare your tooth by filing it down. A digital impression of your teeth will be taken and sent to a dental laboratory to custom build your permanent crown. Upon completion, a temporary crown will be placed. On your second visit, your dentist available evenings will replace the temporary crown with the permanent one.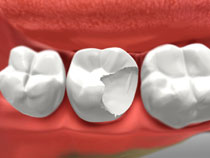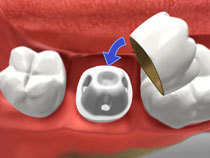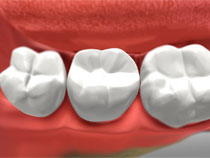 Bridges
Among the many benefits that a crown can offer is the ability to support a dental bridge, which are a set of artificial teeth that are designed to bridge a gap created by one or more missing teeth. Dental bridges are also composed of two parts, the first being the anchoring or abutment teeth. These are the crowns that help to stabilize a bridge on either end of the gap. The second part of the dental bridge is called the pontic or false teeth, which are placed in the gap. The procedure for installing dental bridges are similar to crowns, which involve two dental appointments. The first of which is dedicated to preparing the affected area for the bridge, creating digital impressions to be sent to a dental laboratory, and installing a temporary bridge in the interim. The second visit is where the permanent bridge is installed and adjusted to fit the contours of your mouth.
Dental bridges come in many forms, and your dentist available evenings in Barrie, Dr. Rebeca Riojas-Ozturk can provide you with the dental bridge that is most suitable for your specific needs. To learn more about the different types of dental bridges that your direct billing dentist in Barrie can offer you, contact Barrie Heights Family Dentistry today.